McNett Corporation Reviews
Single-Use Underwater Film Camera
Price: $11.99
Number of Reviews: 0
Be the first to review this camera
Email this page to a friend.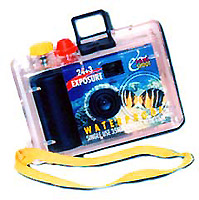 Main Features:
This Single Use Underwater Camera is good to a a depth of 45 feet. Ideal for swimming, snorkeling, shallow water scuba diving and more.
Pre-loaded with 27 exposures of 35mm ISO 400 film (processing not included).
Focus free lens for sharp, clear pictures from a distance as close as 4 feet.
Economical and easy to use, just point and shoot.
Preserve the memories of a vacation, take an underwater family portrait or or introduce kids to the world of underwater photography.