Charman DSC-800W Reviews
Underwater Diving Digital Camera
Number of Reviews: 1
Avg. Score (3.0 Stars)

Email this page to a friend.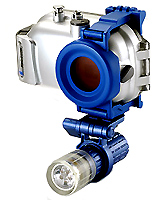 Main Specifications:
6.0 Mega pixel 1/2" CCD sensor
8.0 mega pixel via interpolation
LCD display:
2.0" (Diagonal 5cm) color a-Si TFT LCD (479x240), 115k
Digital Zoom
Capture Mode: 5x, Play Mode:2-8x ( Base on the different image size setting)
Focusing Type: Fixed focus with two steps manual adjustment
Focusing Range: Macro mode: 20cm; Normal: 1.0m to infinity
Shutter Speed: Normal: 2 sec. - 1/1000 sec., Night Sense: 8 sec. - 1/1000 sec.
Live View: Max. 25 fps for 320x240 with Normal Light Level
Movie Clip: Size support: 640x480, 320X240
with audio (Quality support: 24 fps and 15 fps)
Effect: B/W, Normal, Sepia, RGB custom
Sharpness: Soft, Normal, Vivid
Metering: MULTI, SPOT
Voice record
Self-timer: 10 sec., 2 sec., double(no flash) with LED indicator
PictBridge (Direct Printing)
Power Source: 2 pcs of AA alkaline / 2 pcs of Ni-MH
5 LED flashlight
water-resistant to 45 meters
with waterproof case
nine frames and four games
Stronger flash
Grant in Australea -

I need a stronger flash unit for this camera. A great little camera to go to depths of 40m+ no strobes etc
Sep 02, 2010
1 people found Grant's review helpful.