Pentax Optio WP Reviews
Waterproof Digital Camera
Price Range: $250 - $335
Number of Reviews: 1
Avg. Score (4.0 Stars)

Email this page to a friend.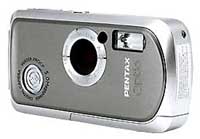 Main Features:
Sensor Resolution 5 megapixels
4x Digital zoom, 3x Optical zoom
SD Memory Card
LCD display 2 inches
Video Input
Built-in Microphone
Underwater Depth up to 5 ft
USB Connection
Weight 4.2 oz
I like this camera!
Peter in Flint, MI -

I used the Pentax Optio WP while vacationing in Florida. The camera did a decent job taking sharp, well-exposed images with accurate color reproduction and a fair amount of detail. There were some exceptions due to poor autofocus, but in general, I was pleasantly surprised at the quality of many pictures.
Sep 12, 2007
2 people found Peter's review helpful.