Pentax Optio 33WR Reviews
Waterproof Camera
Price Range: $300 - $400
Number of Reviews: 2
Avg. Score (5.0 Stars)

Email this page to a friend.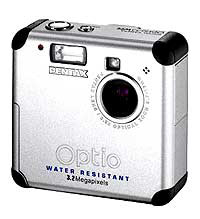 Main Specifications:
3.2 megapixels
1.6 in LCD Screen
Class 7 Water Resistant
Completely Automatic
2x Optical Zoom, 4x Digital Zoom
Measures 3 in x 3.2 in x 1.2 in
Storage: SD/MMC Card
USB Connection
Built In Flash
Quick Time Movie Mode
2 AA Batteries or a Single CR-V3
Weight (with batteries and memory): 0.46 pounds (7 ounces)
Awesome camera!
Tomas in Tallinn, Estonia -

I have never had any problems with this camera, takes great pictures too!
Sep 02, 2007
2 people found Tomas's review helpful.
Totally Satisfied!
Mark in Burlington, VT USA -

I\'ve been using this camera for past two years and haven\'t had any problems with it. It has done an excellent job required for the camera of this class. Thanks to Pentax!
Aug 25, 2007
3 people found Mark's review helpful.