SeaLife Reefmaster DC250 Reviews
Underwater Digital Camera
Price: $295.99
Number of Reviews: 1
Avg. Score (3.0 Stars)

Email this page to a friend.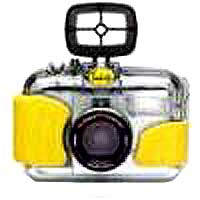 Main Features:
2-Megapixel CCD, creates up to 1600x1200 images
Land Mode, Sea Mode and Sea Mode w/External flash
U/W case is depth tested to 200 feet
Sea modes generate vivid colors in low light
Review and Instant delete option in both Sea Modes
1.5-inch color TFT monitor
Automatic TTL exposure control in 3 programs
Normal and Macro focus modes
Adjustable ISO speed, white balance and exposure compensation
Automatic power save mode to extend battery power
Expandable with ReefMaster lenses, flashes and accessories
Powered by 2xAA batteries or a CR-V3 battery
8MB internal memory expanudable with optional SD Card
USB connectivity and Video Out
Weight 0.33 lb.
Works Well For Intended Purpose
Tedolf Bundler in Seattle -

I have owned the SeaLife DC 250 camera for three years. Advantages: it uses AA rechargeable batteries, same as your external flash; fixed focus lens has adequate sharpness in 2-4 foot range (underwater) extendible to 1 to 2 feet with inexpensive 3X macro lens, fixed focus lens has no shutter lag. Disadvantages: the battery will last for 2-4 hours on a single charge if your manage your battery power. The camera is capable of taking good photos that can be enlarged to 8 X 10" size.
May 01, 2008
2 people found Tedolf Bundler's review helpful.