Frog Eye Reviews
Underwater Camera
Price: $59.95
Number of Reviews: 0
Be the first to review this camera
Email this page to a friend.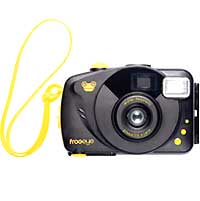 Main Features:
The first and only Lomographic In-the-Water-Camera: with or without flash, always ready for action anytime and anywhere there's water - in the ocean, a lake, a river, a stream, a puddle, the bathtub, the shower, or swimming pool, in the village fountain, in the cleaning trough, under the waterfall, in the gutter, down to a depth of 4 meters (12 feet).
Boasting a slim body, a color-busting lens, and a just-at-the-right-time electronic flash, the Frogeye can splash through the pool, ride in the car, snorkel in the sea, keep watch during dinner, and fight past the velvet rope.
Waterproof to a Depth of 4 Meters, 12 feet
35mm film, 2 AAA batteries