Snap Sights Sport Utility Reviews
Underwater Film Camera
Price: $18.95
Number of Reviews: 0
Be the first to review this camera
Email this page to a friend.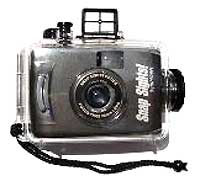 Main Features:
Waterproof to 100'/30m
Built in flash
28m Focus Free Lens
Preloaded with 27 exposure 800 ASA Film
Flip up Sports Viewfinder
Pressure resistant shutter button
Shock Resistant, Heavy Duty Housing that Floats
Wrist lanyard Included
This tough and durable camera can be used above/below water, indoors/outdoors, night or day.
Its unique features make it a perfect camera for a wide range of sports activities including: Diving, camping, kayaking, fishing and hiking.